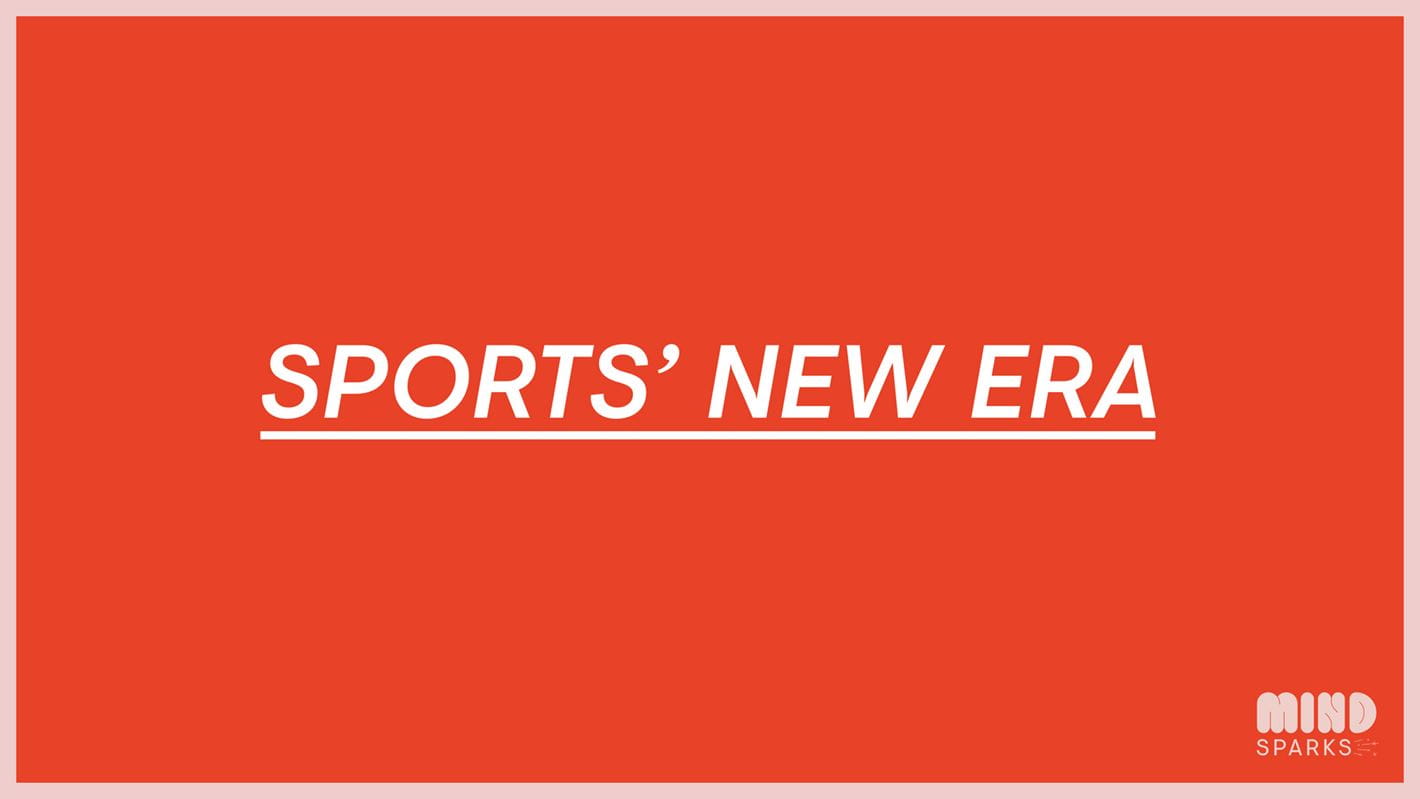 From the night the Utah Jazz was pulled off the court on March 11, COVID-19 upended the sports world. Every link in this US $471B value chain has been broken, from athletes and teams to leagues and stadiums to the media that broadcast and cover the games. Hosted by Sid Lee's Tom Koukodimos (co-managing partner) and Jared Stein (executive vice president, partner, growth and innovation), our second round table examines how brands can engage with audiences even in the total absence of the product they're used to selling.
Key takeaways:
1 — Double down on team identity and engage with your fan base. Build up your brand beyond the bench so that fans have something to rally around while performance is on pause.

2 — Embrace change. Take the absence of games as an opportunity to experiment with new initiatives. Don't expect perfect results—allow yourself to fail, and then apply the learnings.

3 — Continue being a community leader. Create a conversation with your fan bases. Talk to them now so they'll listen to you later, when it's time to return to play.

4 — Tap into the desire to come together. Sports and e-gaming sit at the centre of so many communities and pull us together. The challenge is to translate those aspirational moments to a digital state.
Participants:
Jeff Berding, President of MLS franchise FC Cincinnati

Galen Davies, Head of global partnerships at MLSE, the sports and real-estate conglomerate and parent company to the Toronto Raptors and Maple Leafs

Jillian Frechette, Senior vice president marketing with the New Jersey Devils

Alyson Walker, Senior vice president, business with OverActive Media Group, a global e-sports and entertainment organization
Takeaway 1: Double down on team identity and engage with your fan base
Sid Lee: We approach sports branding exercises in isolation from performance—for example, the Toronto Raptors' "We the North" campaign takes the brand beyond that season's bench. While performance is on pause, how can teams use their brands to continue to engage with fans?
Galen, MLSE: Games are gone but the fans are not. Their interest in our teams has not wavered so we have a responsibility to them. Currently, our four content pillars are health and wellness, trivia, archival footage and e-sports. Our partners can organically bring added value to those buckets to help curate meaningful content for our fans.
Jeff, FC Cincinnati: In Cincinnati, there's an understanding that our connections to our fans are more meaningful than just the performance on the field, because it is those connections that sustains our clubs and our industry.
Alyson, OverActive Media Group: We've worked hard to create a brand position that's not about gaming but stands on its own. It allows us to play at the intersection of sports, gaming, fashion and music. And COVID-19 has allowed those intersections to come together quicker because everyone is back to digital and social initiatives.
Jillian, New Jersey Devils: We realized we have to offer normalcy to our fans, so we ran the rest of our schedule with simulated games but with full-blown coverage, live tweeting and pre- and post-game. We had between 30,000 and 35,000 viewers per game; 60,000 when we played our rivals the Flyers and over 80,000 for our post-game interviews, which featured real players.
Takeaway 2: Embrace change
Sid Lee: Uncertainty about the future has made some brands hesitant to act, but this is also a moment rife with potential to innovate. How can teams use the absence of games as an opportunity to experiment with new initiatives and learnings?
Jillian, New Jersey Devils: Most of our partners are looking to collaborate but they're also looking for our brands to cook up the idea. A lot of people are fearful of making a mistake.
Galen, MLSE: We focus so much on the epicentre of our fan base, but this crisis will force us to look for value beyond that. Organizations will be awoken to the idea that we have massive fan bases. We jump up and down when we get 1 million people watching a Raptors game, but we know there are 16 million fans. This process is going to push us to figure out how to leverage IP to make a bigger difference with that fan base, many of whom are not interacting with our native channels every day—that doesn't mean there isn't value. There's something yet to be unlocked on a broad level.
Alyson, OverActive Media Group: In the e-sports and gaming community, a lot of organizations are creating charities. We've created online tournaments for amateurs, which provide a platform for players to play for donations. Small efforts, but small efforts that result in an aggregated positive impact.
Takeaway 3: Continue being a community leader
Sid Lee: Sports teams have a long legacy of helping communities in crisis to heal. How is this crisis different? And how can teams use their experience to lead their communities now?
Jillian, New Jersey Devils: We all have points of reference. Our CEO was with the NBA on 9/11, and our president was in New Orleans when Katrina hit. On a much smaller scale, I was with the Calgary Flames during the 2013 floods. But COVID is just so off the charts. We don't have a playbook for this.
Jeff, FC Cincinnati: In almost every large-scale crisis we've had, sports teams have led recovery—think of David Ortiz and the Boston Red Sox after the Boston Marathon bombing. This is different because what's being challenged is the idea of communities coming together in a physical space. But the role of sports teams in leading their communities is still 100 percent applicable.
There will be a point when people will be allowed to come to our matches. It will be up to the consumer to decide if they trust that we can keep them and their families safe. I think teams that have credibility as community leaders, who have been part of the conversation during this process, will have more credibility when it comes to inviting people back to our games.
Galen, MLSE: Sports and e-gaming sit at the centre of so many large communities, and in spite of all our differences, it pulls us together. What are we doing for our fans to help them in this time? We're working aggressively to use the energy and scale of MLSE to take care of our community, and we aim to launch a sweeping initiative in the next week that we're pretty proud of.
Takeaway 4: Tap into the desire to come together
Sid Lee: People might approach fandom differently as a result of this pandemic. Some may experience a shift in energy away from sports, while others might stay away from stadiums out of safety concerns. Will people still want to come together in the same way?
Alyson, OverActive Media Group: E-sports is still going, but the folks that love to game and love to watch others game want to be together physically. That's what the gaming community has been waiting for, so that's a challenge for us.
Galen, MLSE: Ten months ago, a few million people attended the Raptors' championship parade. That's probably never going to happen again. But these moments are so aspirational. They create so much of the tone and the connection to the brand. I think about Toronto FC. A lot of people have never been to a game, but they know how crazy that south end of the stadium is. That creates an allure around the brand. Our collective task will be to figure how to create that outside of its analogue state.
Jeff, FC Cincinnati: Sports is a great uniter. Where you're from, who you worship, who you voted for: It all gets blurred at our events. You can just be human and celebrate your civic pride and your passion for your team with each other. There's a human desire to come together.