Sitecore Symposium 2018: Sid Lee's Top 5 Takeaways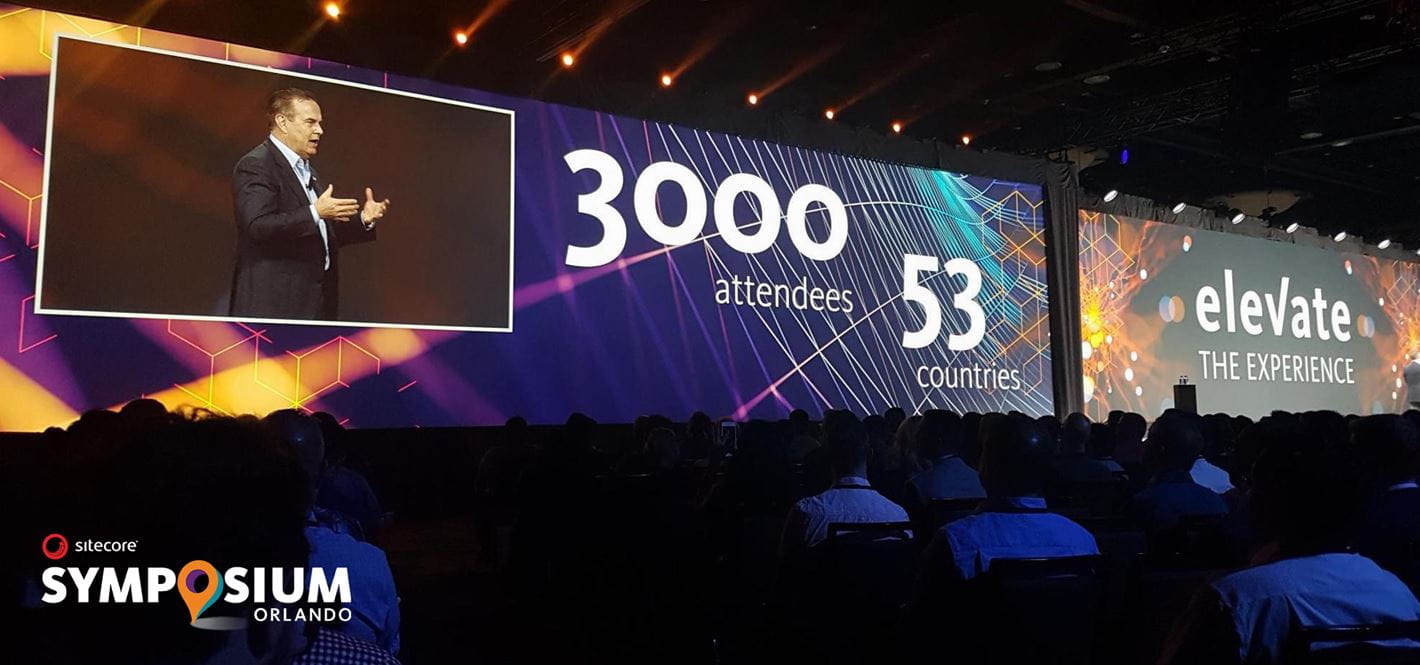 We are back home from Sitecore Symposium and excited to share our key takeaways to keep you in the know! Sid Lee was invited to take the stage for two breakout sessions with our clients Fasken and American Bath Group, as well as to network, learn and share everything that's evolving with Sitecore and the industry as a whole. Here were the highlights:
#1 AI and machine-learning technology will allow brands to nurture a deeper understanding of their customers
Sitecore XP 9.1 will launch with Sitecore Cortex at its foundation, with additional functional capabilities that demonstrate a deeper level of machine learning to scale even further into human insights. These new capabilities will give users time efficiencies and will enable the identification of a richer set of personalization traits in the user journey, to drive increased conversions in the purchase flow.
#2 Sitecore JavaScript Services = resource efficiency + expedited time to market
Sitecore announced its version 9.1 release will come with JavaScript Services – a game changer in delivery systems, as now workflows from design through build are opened up to a broader JavaScript community. Developers who are not familiar with .NET Sitecore implementations will build headless solutions inside their current familiar framework while still leveraging the power of Sitecore XP – yes, even with mobile development.
#3 All Sitecore. All the time.
One of the surprises at Symposium was the announcement of the current acquisition of StyleLabs. Now the full content lifecycle management will be optimized with Sitecore interface and AI capabilities continuing to grow. PIM and DAM connectors are planned for release in the coming months – an acquisition that should bring a smile to both marketers' and technologists' faces. This new member of the Sitecore family will provide incredible efficiencies and insights when delivering customer experiences.
#4 All things equal
#movethedial played an important role at Symposium. Guest speaker Jodi Kovitz, CEO and Founder of the global movement, was invited to speak at Symposium to share and encourage the participation and leadership of women in the digital space. Sitecore took the opportunity this year to emphasize the strength and power that comes from equal opportunity. With Sitecore CMO Paige O'Neill hosting, it was truly an integral part to differentiating Sitecore Symposium in the arena of typical technology conferences and, again, raised the bar for what should become – and is becoming – the standard.
#5 Technology-talk resonates when there's an impact on humanity
Mark Frost, Sitecore CEO, introduced the theme of this year's conference as "elevating the experience," and to that point, Symposium's lineup of speakers kept the bar high. Inspiring keynotes that wouldn't have had a place in a technology conference previously included Shark Tank business owner Daymond John as well as Mick Ebeling, Founder of Not Impossible Labs. Mick set the tone for the conference with an eye-opening message on driving impact with technology and a good story. That's what brands need – to be an experience, not a product. Equally impactful messages were at the heart of the customer success stories for SickKids, Volvo and Cycling Sports Group. Drawing attention to the success of their brands while leveraging Sitecore, these brands drove the message home – elevating the experience breaks boundaries in how we buy and sell.
Sid Lee Breakout Sessions
We're sharing content from our breakout sessions for anyone who missed it – here are our recent success stories with Fasken and American Bath Group.
To learn more about how Sid Lee can leverage your brand with Sitecore, check out our page here.