3% Conference 2020 key takeaways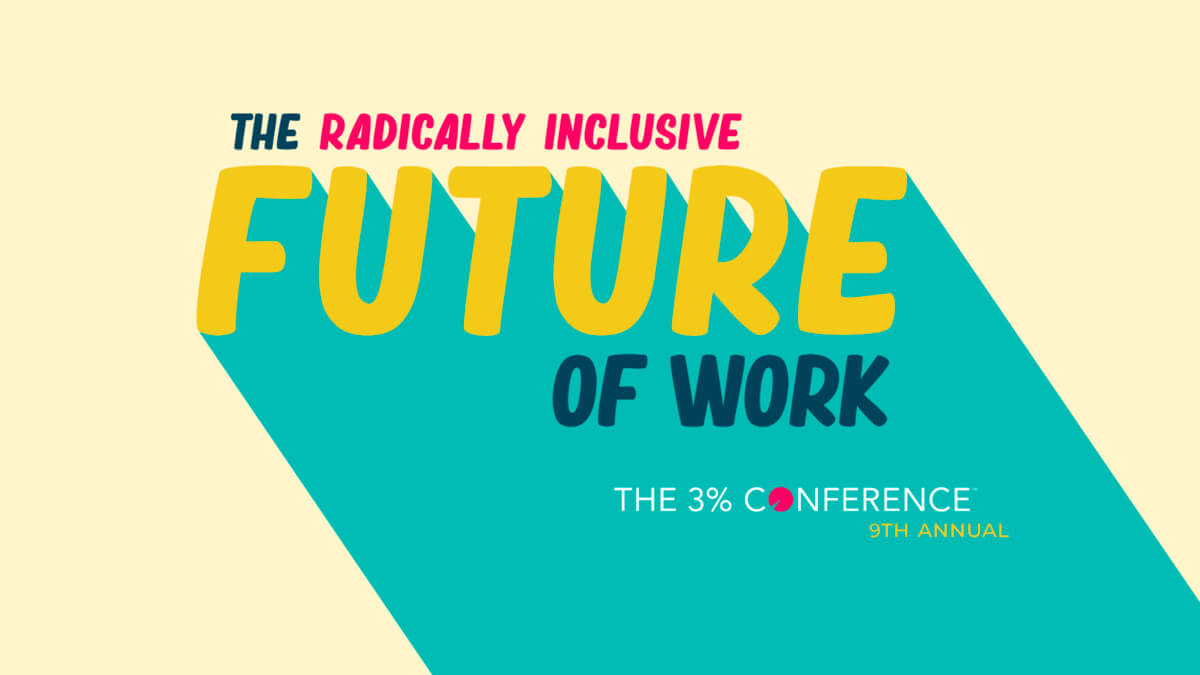 The 9th annual 3% Conference took place from July 27 to 29, where attendees connected virtually, in 2020 fashion, to discuss, learn, and explore how this year's theme, The Radically Inclusive Future of Work, can pave the path towards elevating the advertising and marketing industries.
A conference that famously advocates for diversity and inclusion in the workplace, participants attended keynotes, panels, and masterclasses on topics ranging from conscious leadership to agile work environments and so much more. Kat Gordon, Founder of the 3% Movement, kicked off the conference and was followed by speakers such as Cindy Gallop, Founder and CEO, MakeLoveNotPorn, and Board Advisor at We Are Rosie; Dalana Brand, Vice President of People and Experience and Head of Inclusion and Diversity at Twitter; as well as many other incredible leaders from Amazon, Salesforce, Bumble and L'Oréal.
Over 50 artisans from Sid Lee attended the virtual event. Inspired to implement their learnings and expand their ways of thinking inside and out of the office, here they share their main takeaways from this year's conference.
Allison Roger
Creative Director at Sid Lee
"We used to say that technology changes every six months. Now it feels like culture is changing every five days. That means we have to be more in tune—not just with ourselves and how we feel about that culture, but actually being in tune with it politically, creatively, economically and racially. We'll handle it iteratively, and we can't be afraid of failure—but we do need to hold ourselves accountable."
— Kai Deveraux Lawson, Global Director of Community Engagement at WPP from "Never Let a Crisis Go to Waste: How 2020 Forced Industry Culture to Change"
Our job is to reach for meaning, and to help others find theirs too, by contextualizing the human experience. The only way we can do this is by being true—to ourselves, each other and the communities we seek to build from the inside out.
Catherine Richard
Director, Talent Management at Sid Lee
"We are about conversation, and conversations start with listening."
— Dalana Brand, VP People Experience and Head of Inclusion and Diversity at Twitter from "Caring for the Caregivers"
We need to build a culture of listening and learning and leaning in. This quote doesn't represent a new concept, but we often tend to forget that conversations start with listening. This was a great reminder.
Zemina Moosa
EVP, Head of Account Services
"Think of your career trajectory in terms of 'waves."
— Heather Tinsley-Fix, Senior Advisor at AARP from "Multi-Generational Workforce Pillar"
Heather gave an interesting perspective on how we work and how we build and appreciate careers. She spoke about the shift from linear progression to one where you can move in and out of the workforce, re-skilling, re-educating, and changing courses.
Michelle Bekas
Executive Director, Account Management at Sid Lee
"The advertising industry has great power and tremendous responsibility to shape culture. If our purpose is to create ideas that matter, the people who create those ideas must be representative of the culture in which we live."
—Karen Kaplan, Chairman & CEO at Hill Holliday from Conscious Leadership closing remarks
Growing up in the U.S. as a first-generation immigrant, I rarely saw anyone in mainstream media that looked like me or who had similar life experiences. This fostered a sense of "otherness" and lead to a desire to assimilate into mass culture. Representation matters. And to be able to authentically acknowledge and share all of the rich stories and unique experiences that make our country and community, we need to embrace, highlight and promote the community of diverse storytellers who own those experiences.
Jason Gingold
Executive Strategy Director at Sid Lee
On how to begin building true equity in the workplace: "Begin with a vision for a more just society. Make sure the vision is big, specific, and measurable."
—Lily Zheng, Diversity, Equity & Inclusion Consultant from "Entering the Age of Corporate Social Justice"
What Lily was getting at, in part, is that it has often been all too easy for companies to get by with minimal effort when it comes to critical social change within their organization. It doesn't just start with what you can picture within your company; true, necessary, socially-driven organizational reform must begin with a vision at the grandest scale of a more just society. That is something worth putting effort towards.
Pauline Rosen
VP, Head of Strategy at Sid Lee
"It's not about diversity; it's about humanity. Reflecting the world as it really is."
—Cindy Gallop, Founder & CEO at MakeLoveNotPorn, and Board Advisor at We Are Rosie from 3% Conference Featured Meet Up
I loved this reframing and how Cindy shared tips on how to reengineer the hiring process to allow corporations to better reflect the world we live in.
Jennifer Hendlisz
Sr. Director, Talent Management at Sid Lee
"Emotional intelligence is not a soft skill."
—Marc Brackett, Ph.D. and author, and Cynthia Augustine, Global Chief Talent Officer at FCB from "Permission to Feel"
Emotional intelligence is a must-have, not a "nice to have." It's time to stop undermining it as a soft skill.
Sebastien Lusignan
Lead Producer, Experiential at Sid Lee
"It was not their role before, but with so many issues that have surfaced lately, brands will have to take a stand for their beliefs. Brands are now going to have to be very politically focused; they will need to have a moral bone to their body."
—Jordan Culpepper, Social Media Manager, Multi-Cultural Beauty at L'Oréal from "Meet Three Young Men Fighting for a More Equitable Future"
This made me reflect on our role as an agency and the role that brands will play in the future.
Elisabeth Jamot
Group Strategy Director at Sid Lee
"Imagine a world in which women are valued."
—The Great American Lie, a film by Jen Siebel Newsom
To have to even say this in 2020 is kind of heartbreaking. At the same time, when I do this exercise and imagine it, I feel incredibly motivated and empowered.
Kelly St-Pierre
Content Creative at Sid Lee
"I've seen the future of retirement and it's called work."
—Heather Tinsley-Fix, Senior Advisor at AARP from "Multi-Generational Workforce Pillar"
While this one was not on the inspirational side, I really feel like it marks the urgency of the general message, which is to make work environments easier for everyone... Because we'll all be in this together for a VERY long time!
Suzanne Polverino
Creative Resource Director at Sid Lee
"Make our creative spaces less about formalities and more about identities."
—Rhi Bergado, Film Director from "Don't Hide the Good Stuff"
This touched on some great reminders about diversity, inclusion and tapping into hidden talent.
Libby Grant
Talent Coordinator at Sid Lee
"Don't care what other people think."
—Cindy Gallop, Founder & CEO at MakeLoveNotPorn, and Board Advisor at We Are Rosie from 3% Conference Featured Meet Up
She's a badass and spoke about the importance of not caring what people think and to speak your truth no matter what!