3 Insights for crafting high-level experiences for travel and hospitality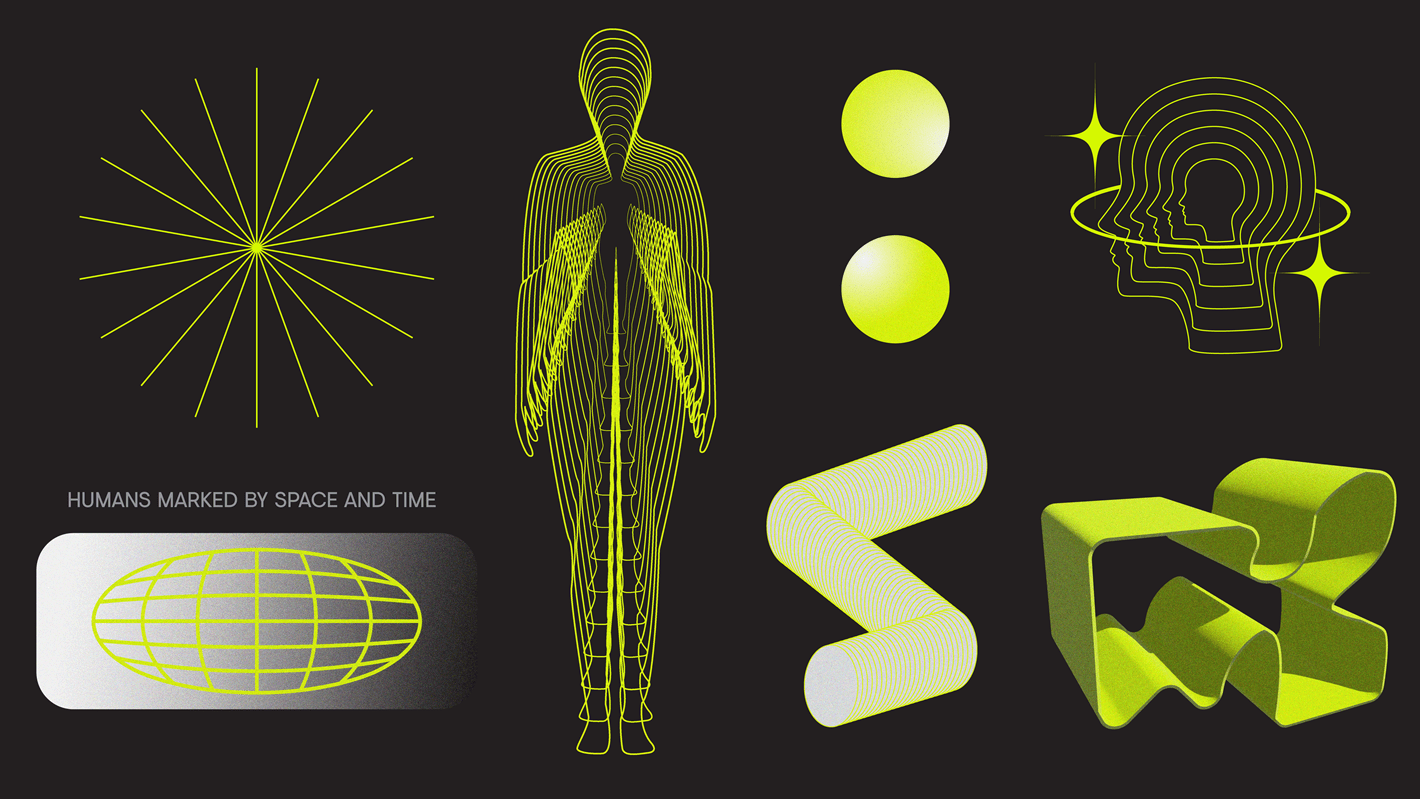 As brand builders with a penchant for mixing disciplines, our artisans are familiar with every step of creating an unforgettable stay-experience. Here are some expert insights on what good design can bring to travel and hospitality industries.
1. Design for wellness.

Guests are seeking stay-experiences that increase their sense of wellbeing. A recent study by Amex found that 76% of those surveyed plan to travel for precisely this purpose. The elements that go into wellness experiences are obvious: health and fitness centers, nutritious food options, plentiful opportunities for human connection. But to integrate these elements holistically, you need strong design. Like award-winning Design Director Marie Elaine-Benoitwould say, every single element in our work is there for a reason.

This idea is fundamental to Biophilic design, a philosophy that Sid Lee Architecture has integrated into its approach when designing hotels. Often misinterpreted as the simple inclusion of plant life in a space, biophilic design is rather a rigorous discipline that relies on "sustained engagement with nature" and human adaptations to the natural world that have advanced people's health, fitness and general wellbeing through time. When integrated effectively, the principles of biophilic design enable spaces to enhance the wellbeing of their users.

For instance, the new interiors of the Marriott Château Champlain hotel were designed in reference to a winter garden depictive of Montreal's distinctive cold season. A selection of natural materials like wood and stone, along with the use of biomorphic forms and patterns allow for an analogous connection to nature. The interior design, with its subdued tones, accentuates the guestroom's iconic arched windows that offer a visual connection to nature through views of Mont Royal on one side and the St. Lawrence River on the other.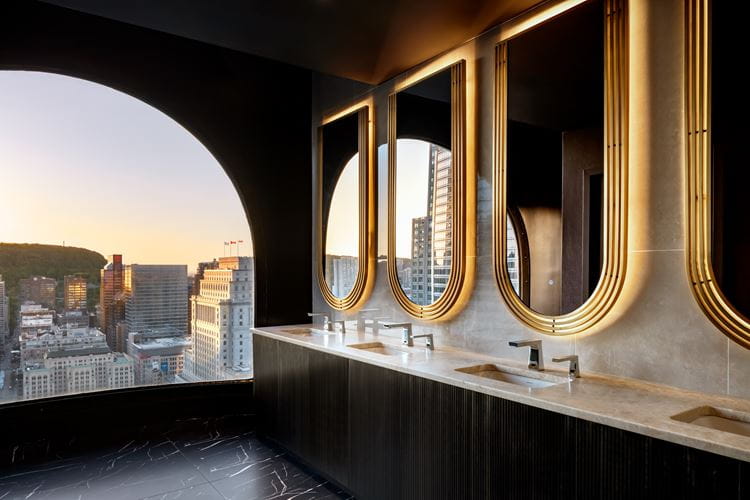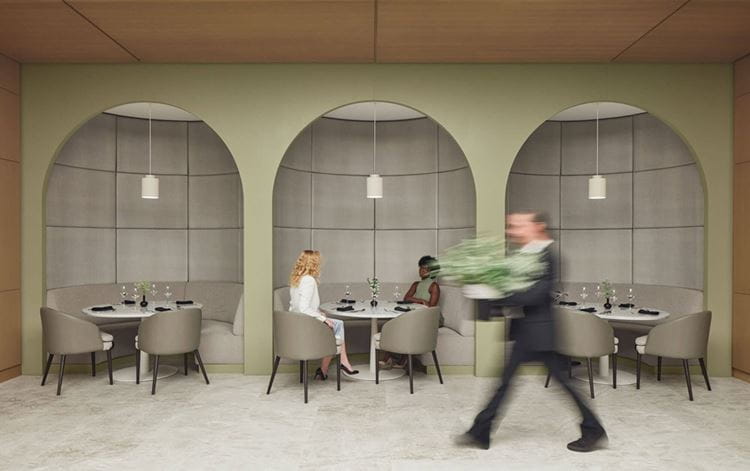 2. Emphasize the connection with the neighborhood.

Hotels thrive when designed to reflect the culture of their community. A permeable façade at street-level connects an establishment to its neighborhood while strategically placing the F&B offering along that façade increases mingling opportunities for guests and locals. The integration of work by local artists further links the establishment to its community.

"To create ties with its surroundings, an establishment must rely on a seamless connection between the interior and the exterior. Paired with a context-sensitive and user-centric approach this allows to turn a hotel into a connectivity hub," explains Architect and Principal partner Martin Leblanc.

Take the revitalized common spaces of W Hotel Toronto – the narrative for the interiors was inspired by set design as an homage to the city's bustling theater scene. On the ground floor, the façade opens onto the street and allows for a direct connection with the hotel's café by day, and cocktail bar by night. Its rooftop restaurant and bar is also accessible from an elevator located on the street. This in conjunction with work by local artists softens the partition between outside and in.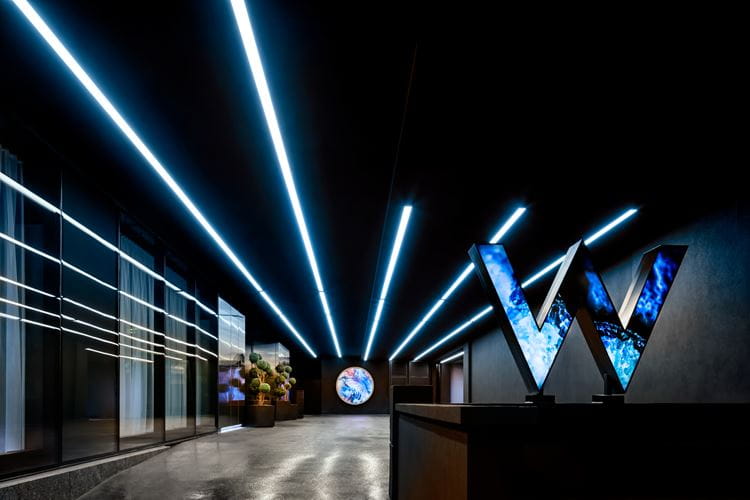 3. Integrate artful technology.
As we plunge headfirst into the digital future, art and technology continue to be interwoven like never before. The opportunities to create unique and unforgettable experiences are many.

For Resorts World Las Vegas, our friends at Digital Kitchen launched a project titled GLOW that runs on the Strip's famous LED surfaces. Resorts World is the first new resort on the Las Vegas Strip built in over a decade, and features some of the largest screens in North America. Digital Kitchen's challenge was to create a content and multimedia experience to entertain and attract the millions of viewers who come to Las Vegas every year.

GLOW is a one-of-a-kind video and multimedia spectacle comprising five unique shows that bring the property's technologically advanced architecture to life. Via an 100,000 sq. ft Tower screen, guests are swept up in psychedelic journeys into space, illustrated excursions across the globe, and surreal motion-capture love stories told through dance.