Who's speaking at C2 Montréal — For you?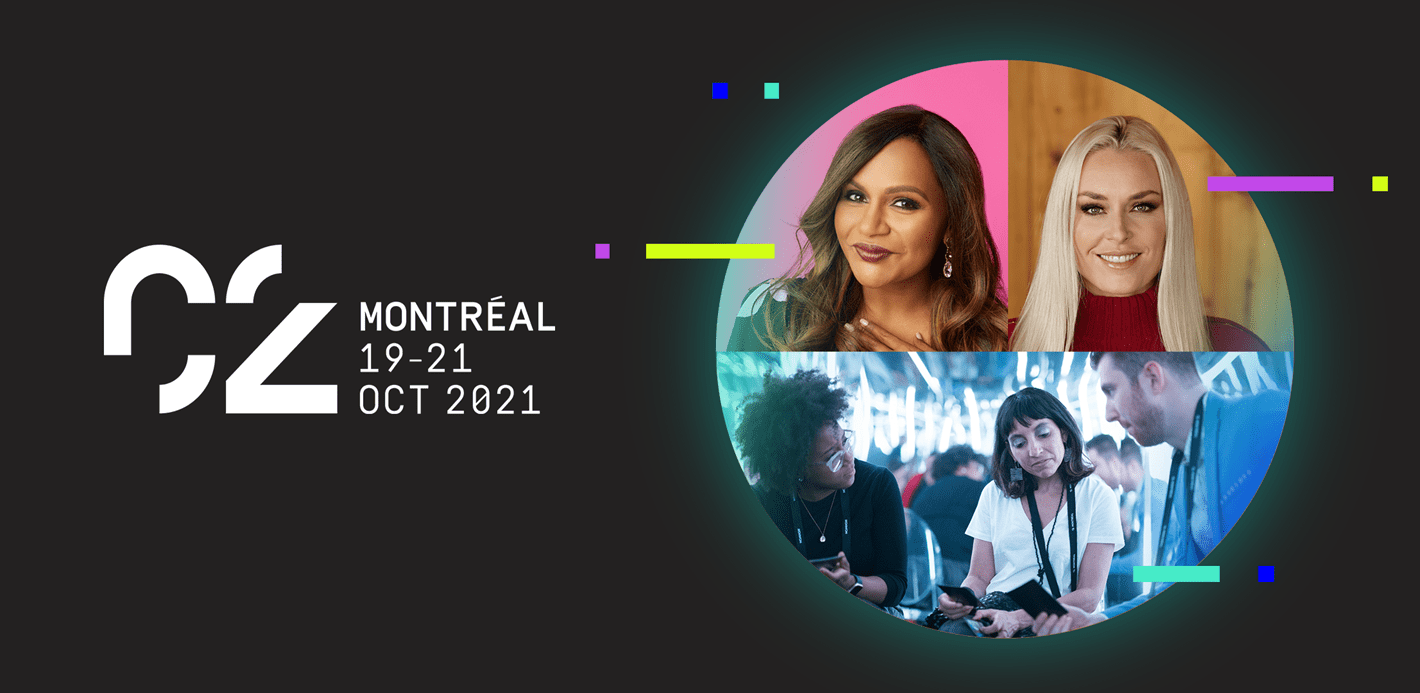 As COVID-19 measures slowly begin to pull back, we're all thinking of [Re]convening, [Re]connecting, [Re]engaging, [Re]imagining, and [Re]newing. That's why C2 is returning this October with a hybrid model and a [RE] theme.

C2 Montréal will run from October 19 to 21 at Circus Arts City TOHU and online. As of now, there are 21 confirmed keynote speakers presenting on a huge array of topics. Not enough coffee in the world for you to attend 21 talks? We've got you: here's a few recommendations divided into four interest categories: STEM, Social Responsibility, Business, and Entertainment.
STEM
For right-brained attendees:
Gitanji Rao is the inventor and founder of Epione, a device for early diagnosis of prescription opioid addiction using genetic engineering, and Kindly, an anti-cyberbullying service using AI and natural language processing. She's on Forbes 30 under 30 in Science list and was honoured as TIME's Top Young Innovator and Time Kid of the Year.
Dr. Farah Alibay is a Canadian aerospace engineer. In 2014, she joined NASA's Jet Propulsion Laboratory (JPL) where she is currently part of the M2020 mission, working on the Perseverance rover, which landed on Mars in February 2021, and the Ingenuity helicopter, which performed the first powered flight on another planet in April 2021.
Social Responsibility
For all of us:
Ghislain Picard is Chief of the Assembly of First Nations Quebec-Labrador (AFNQL), a political organization of 43 Chiefs of the First Nations of Quebec and Labrador, and a spokesperson for Justice, Policing and Border Crossing.
Danielle Krettek Cobb founded Google Empathy Lab in 2015 out of a desire to create humane, enlivening technology informed by empathy, resilience, and wisdom of the heart. For over 20 years, she has brought vibrant humanity and creativity to Nike, Apple, and Google.
Business
International leaders with big ideas:
Daniel Habashi is the General Manager of TikTok Canada, Middle East, Africa, and South Asia. He's a proven leader whose passion for building and fostering communities has led him to success.
Isabelle Hudon was appointed President and CEO of BDC, the bank for Canadian entrepreneurs, this August. Ms. Hudon brings a deep business background and a clear vision for an inclusive economy to support growth for Canadian entrepreneurs. She is a champion of diversity, gender equality, and the green economy, leading BDC's 2,500-person team.
Entertainment
From The Office to the slopes:
Mindy Kaling is best known for her time on NBC's The Office, and for later producing her own show, The Mindy Project. She's also a New York Times best-selling author, an Emmy-nominated writer, and director.
Lindsey Vonn is the most successful female skier of all time, holding four World Cup titles, an Olympic Bronze, and an Olympic Gold.
To read more about C2 Montréal and see the full list of speakers, click here.