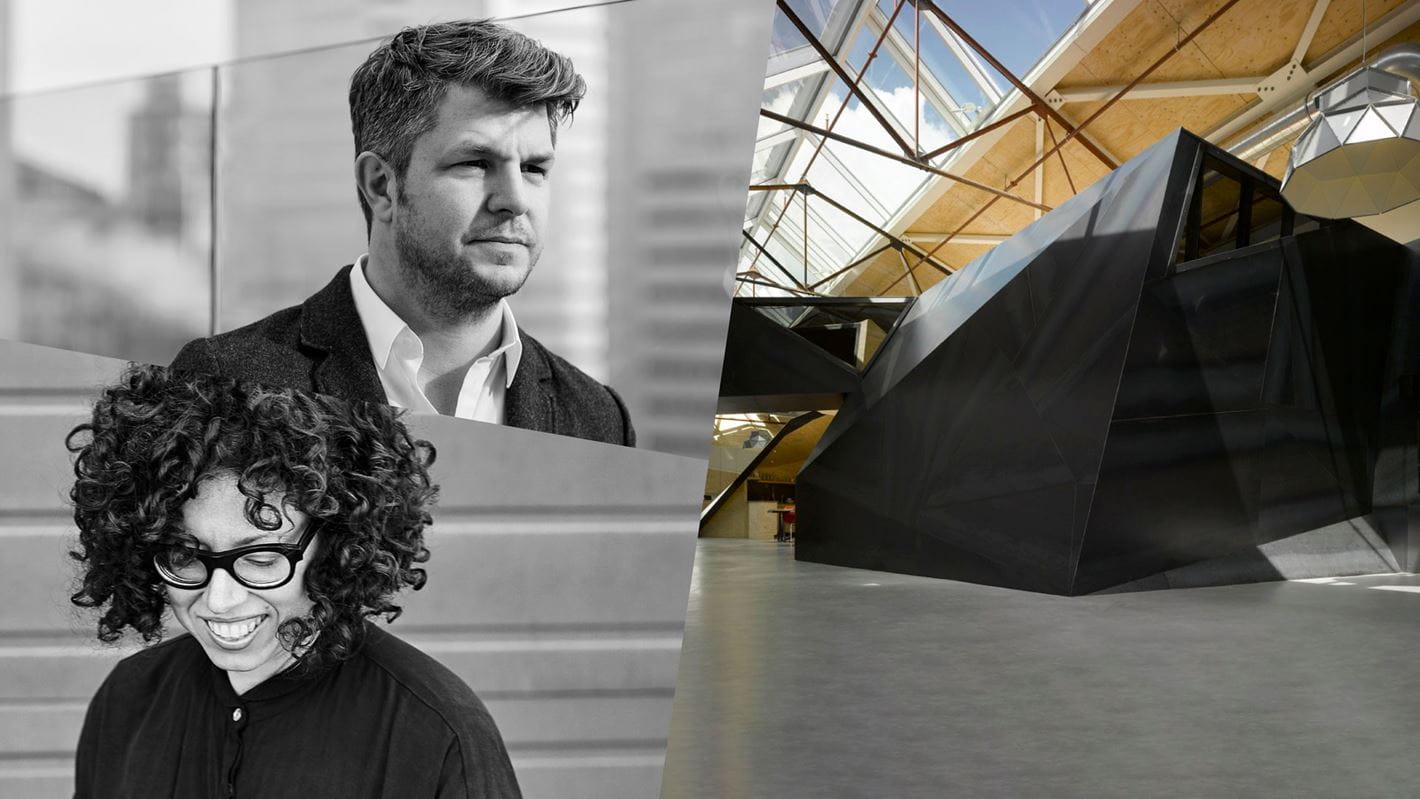 Back in 2009, Architect and Principal Partner at Sid Lee Architecture Jean Pelland and Sid Lee's Design Director Marie-Elaine Benoit were working in Amsterdam. Miles north of the then-Sid Lee atelier, in the Amsterdam-Noord shipbuilding district, would soon stand the award-winning Red Bull HQ: an open concept office space complete with skate ramps, brutalist geometry, and a tile mosaic of the Virgin Mary DJ-ing.

We called Jean and Marie-Elaine to the long-term memory stand to discuss their days collaborating and creating in Amsterdam's Red Bull HQ.


How did it all begin?
JP: Initially, it was a competition between three Dutch architectural firms and us to showcase our vision of what the Red Bull HQ could be for potential sites. Ultimately, we won the competition because we offered a very large variety of ideas for pursuing culture and space at the same time, and a greater understanding of Red Bull's ambition in the Netherlands.
M-E: We wanted to make a space that reflected Red Bull's DNA. The company is involved in crash tests, extreme sports, all these crazy things, and we wanted to incorporate that in the designs. The office of the President, for example, was inspired by the Flugtag competition, where contestants build their own planes and launch themselves off a pier to see who can fly farthest. At the time Red Bull was also involved in the art scene, so we invited local graffiti artists to write on the walls.


What was the stroke of genius?
JP: Well, we were doing a lot of iterations. I think everything really came together when we first thought about merging the narrative of the space and its industrial past—the history of the shipyard and Red Bull's culture. From this idea we designed The Beast, which, metaphorically, tapped into everything Red Bull thought was cool. It's a complex shape that resembles the hull of a ship and houses a DJ booth, dining area, and a mezzanine. It's a striking presence, and one they can use for anything from a board meeting to a party. We worked with a local Dutch studio, Fiction Factory, to craft this complex angular shape with a double skin of metal and plywood. I think the other stroke of genius was that we embedded the company's culture, graphically, into the various spaces. Red Bull's narrative was woven into every inch of the building.


What are your fondest memories of the project?
M-E: During the planning stages, we would go there nearly every day and just think about the space and what was possible. I think my fondest memories are imagining what it could become. It was the kind of project that reminded me of the joy in what I do.
JP: Aside from designing the project, the opening party comes to mind. It was fun going through the process, but the whole idea was to host people for either work or events. The party ended up being great and proved that the space worked out well. Sometimes we design in a vacuum. By this I mean you may not see life happening in your final project. But with the Red Bull HQ we did.


See the full case study here.