Ask a Client — Ronalee Zarate-Bayani from the L.A. Rams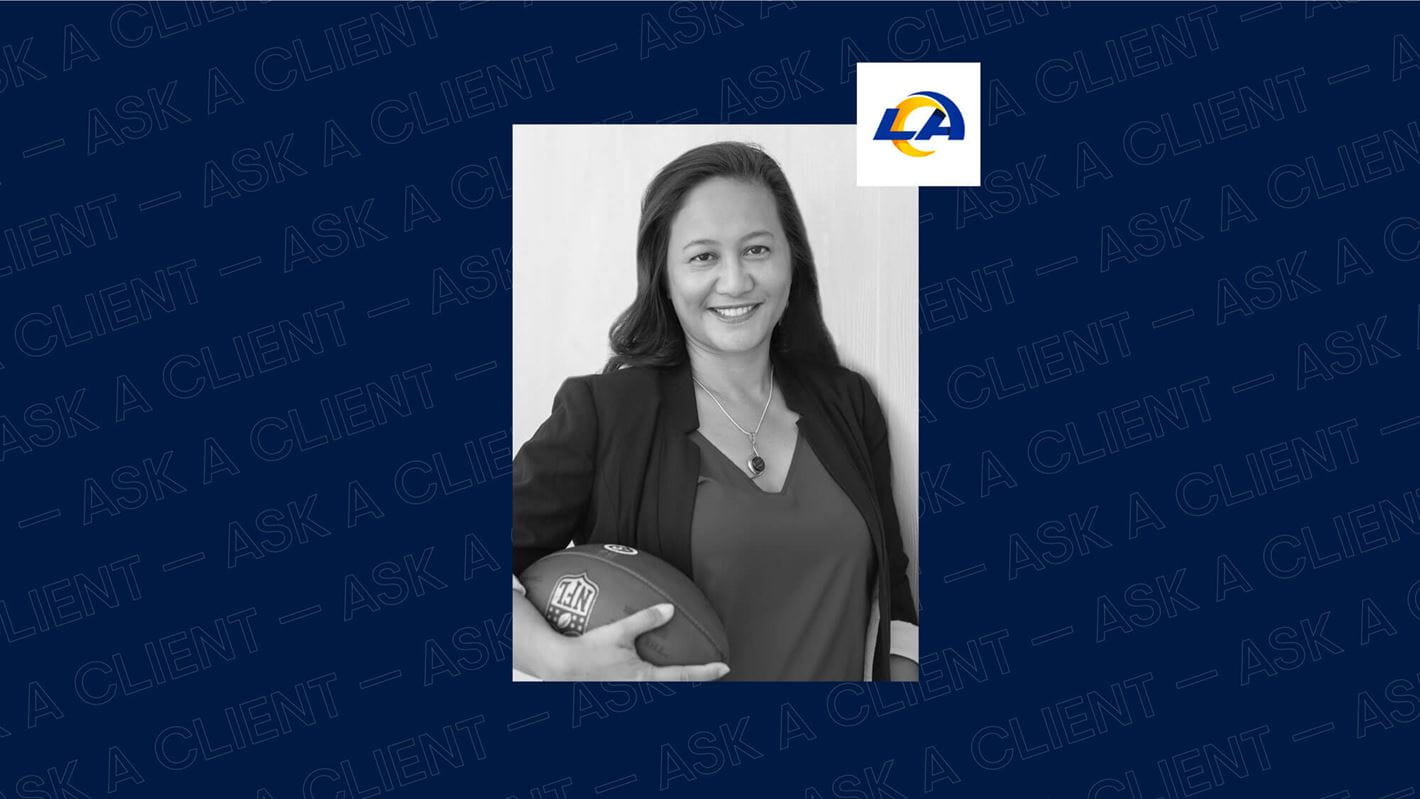 As CMO for the L.A. Rams since 2017, Ronalee Zarate-Bayani has accompanied the franchise through three playoff runs and Super Bowl LIII. Here, she answers questions about football, work and everything in between.
With 2020 in our rear-view mirror, what's keeping you motivated and optimistic in 2021?
While many of the challenges of 2020 remain with the start of this year, I am optimistic that the latter part of 2021 will be the start of a new beginning stemming from the exuberance of hope, the resiliency of people, and meaningful progress within society. This isn't just about the effect on industries; more importantly, it's about the fortitude of humanity. As we have done during our most difficult times in the past, we will learn, we will grow, and we will rise.
What is the most widespread misconception about your work?
While I'm sure there are many, a question that always comes up after the end of the season is, "So what are you going to do now… Do you get to take a break?" While both the football and business sides of the house need to work synergistically together, there's a big difference in how things are run within each throughout the year. On the business side, we're even busier in the off-season, as that's when we do the bulk of our planning and while there's no play on the field, we must continue to engage fans and serve our neighboring communities year round.
What were the major changes in the way you approached marketing, given the realities of 2020?
At the core, we are a live experience business. That said, this year, we had to cancel all live gatherings. Had this been a normal year, we would connect with our fans in a variety of ways, but always with the end goal of bringing them together to enjoy an incredible experience with the #RamsHouse community of fans and ultimately celebrate the victories of our team on the field at our new stadium. This year, we had to pivot completely and many of our connections – storytelling, sharing of information, and celebrating – had to happen through a screen. Digital, social, and broadcast became the primary means to rally our fans together through these challenging times. That said, one of the things we are most proud of this year is that we leaned even further into one of our core community pillars that has been part of our DNA from the time we moved back to Los Angeles: social justice. We continuously leveraged our platform to share positive messages around uniting together to drive meaningful action, like voting.
Are there specific rules you believe we should be breaking – or breaking more often – in branding and marketing?
Breaking the rules is an interesting perspective to bring to the table. One of the things that I love about marketing is that it is ever-evolving. There is no other vertical that changes faster than we as professionals can catch up to in order to master our craft. What this means is that there really are no steadfast rules. What worked before may not work now and what worked in one industry may not apply in another. Instead of thinking about what rule to break, we should be thinking about how we continuously need to remain a student of our craft, need to remain humble in knowing that we can never be a true expert in all areas of marketing, need to build an army of trusted teammates that continue to cultivate their expertise in areas that are complementary to our own skills, and need to continuously find the courage to innovate bravely, challenge the status quo, and learn intently from failure.
What is the most important factor you consider when choosing a sponsor or a brand to collaborate with?
While there are many considerations, some of the most important ones are shared values and/or a shared interest to get creative with the collaboration. We are a brand that likes to innovate with purpose and ensure that we continuously challenge ourselves to push beyond the status quo. The best partners are those that are willing to experiment and go beyond what's expected or what's been done before.
What's your plan for Super Bowl night this year? And what was Super Bowl LIII like for you personally and your team?
This year will be an interesting Super Bowl for me. Since we don't have our team in the big game, I'm really looking forward to enjoying the sport with my family. It's going to be the first time since I've joined the team that I get to join my husband and kids in watching the big game from the comforts of my own home.
Who is your favorite football player? If he's not with the Rams, we won't judge.
Aaron Donald. He is a force to be reckoned with on the field. Off the field, he is one of the most hard-working, dedicated human beings in his craft. I have nothing but respect for who he is and what he represents each time he puts his heart and soul on that field.