Sid Lee Launches Insoapropriate; a collection of inappropriate soap crafted to cleanse the senses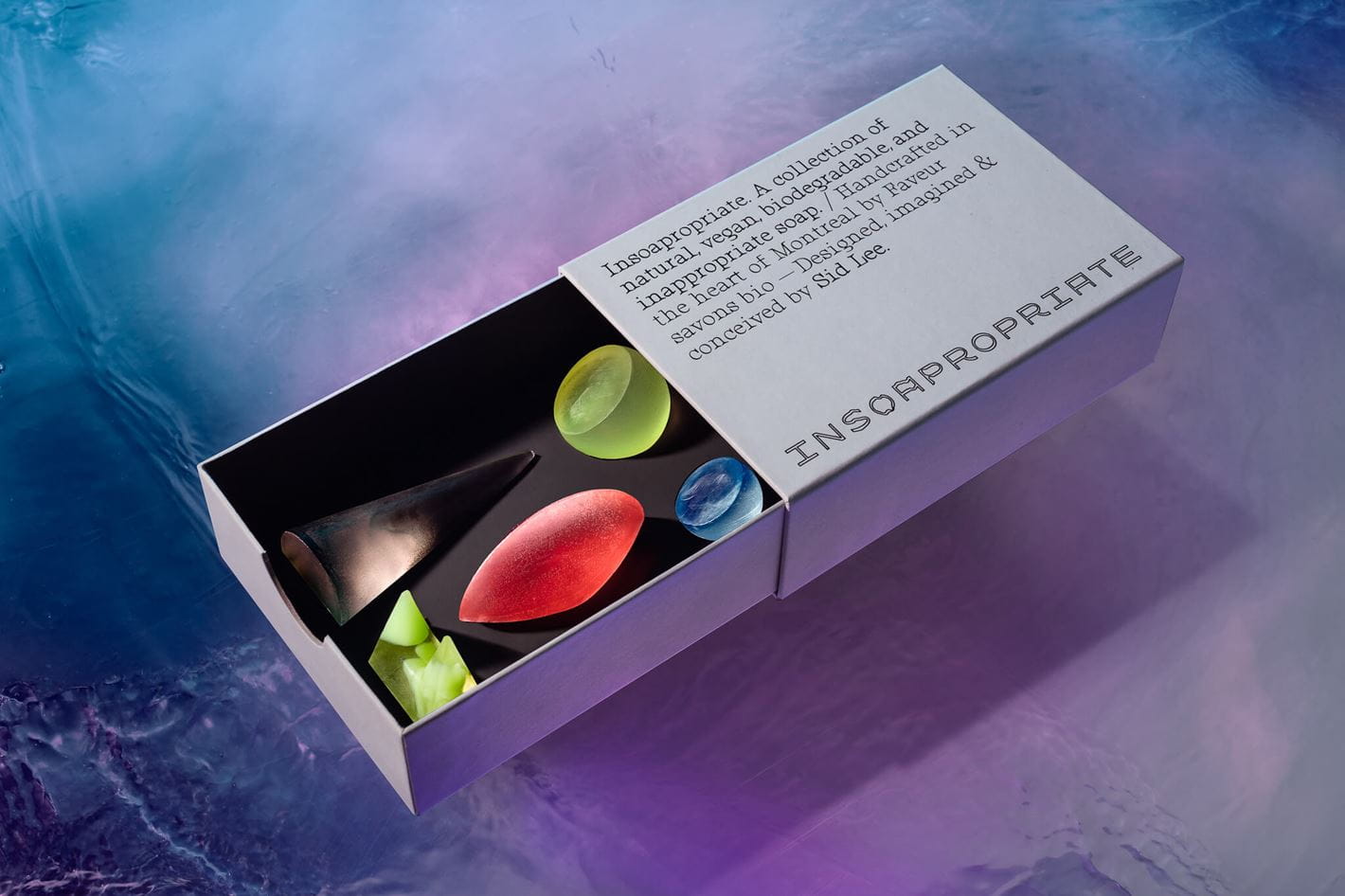 If Sid Lee made soap, could we make it a little less appropriate? As a creative agency known for pushing boundaries, we developed a collection of soap that is beyond ordinary. Introducing Insoapropriate, a collection of inappropriate soap made to cleanse all your senses, but not to be used as intended.
The Insoapropriate collection is an all-natural, vegan product and is handcrafted in the heart of Montreal. Scented with pure essential oils and certified organic fragrances, these geometric gems are inspired to cleanse the 5 senses:
Stellar Vision: Inspired by the sense of sight, these globes of glycerine are individually scented with the pairings of gardenia & black spruce and lily of the valley & eucalyptus. But use these soap with caution; or you just might see red.
Premium Palate: Inspired by the sense of taste, this tantalizing semicircle is scented with geranium that has a lot of bite. But use it with caution; it's a little toxic and a new kind of bitter.
Crystalline Hearing: Inspired by the sense of hearing, this cone shape is infused with vetiver, brings a new meaning to cleaning between the ears. But use it with caution; what starts as a tickle might become an affliction.
Sublime Smell: Inspired by the sense of smell, this invasive shape offers a rush of thuya & balsam. But use this soap with caution: if something smells fishy, it's because it is.
"We were challenged to come up with a distinctive idea for our corporate gift; something that would be in tune with how our agency works" says Solène Lavigne-Lalonde, Corporate Marketing Director for Sid Lee. "We came up with a refreshing idea, a soap collection. From conceptualization to final production, amid lots of fun and collaboration across our multidisciplinary teams, Insoapropriate flourished into a unique and unexpected gift."
"We wanted to take soap to a place it's never been" says Simon Chénier-Gauvreau, Creative Director at Sid Lee. "Form is meant to follow function, in this case dysfunction. Insoapropriate is a satirical take on design, it is an evocative product that contextually shouldn't exist."
Designed, imagined and conceived by the Sid Lee team, this exclusive collection is available for pre-order at
insoapropriate.sidlee.com
.