Fact Avalanche
Protect Our Winters Canada
Shutting down climate change deniers
With natural disasters occurring all over the world, climate change deniers still continue to spread false information about climate change—including people in power, such as politicians and fossil fuel lobbyists. We partnered with Protect Our Winters Canada (POW), a non-profit fighting climate change, to set the record straight with Fact Avalanche. The project made Fast Company's 2020 top 12 list of World Changing Ideas.
Burying lies in truth
In time for the 2019 Canadian elections, we launched the Fact Avalanche: an online tool designed to counter misinformation and skepticism surrounding climate change and engulf climate change deniers' tweets in truth.
Whenever one of the influential climate change deniers we targeted tweeted an incorrect claim about climate change, Fact Avalanche subscribers were alerted via text, email or Slack prompting them to #FactBack with scientific facts from a custom fact bank built in partnership with Canadian universities and scientific climate partners at IC3 (Interdisciplinary Centre on Climate Change). #FactBack GIFs and stickers were also created so people could take action on social platforms outside of Twitter.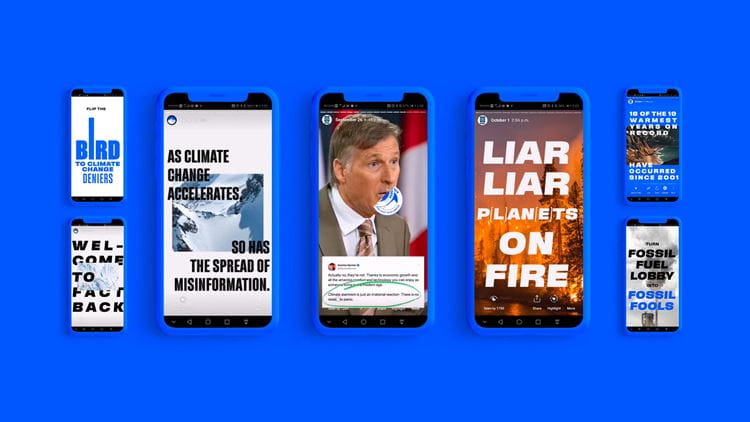 A snowballing movement
The Fact Avalanche is a testament to the passionate drive from people all around the globe fighting for climate action. Partnering with POW, we created this platform to give a voice to people striving to not only save the state of our playgrounds, but the state of our world as we know it.
This is what happened after just three weeks with no media budget:
25 million organic impressions
5K+ fact visits
300% Instagram follower increase
100 Canadian companies added the app to their Slack channels