With ambitions to expand their portfolio, reinstate their cultural relevance, launch into new markets, and become a complete beverage brand rather than just a lager, Dos Equis needed a jumpstart to fuel their growth. That's where we came in.
Who drinks Dos Equis?
When the consumer research crystallized, here's the story it told: Dos drinkers live predominantly in the Sunbelt, but a significant number of them weren't born there. These were people who sought opportunity, took risks, and forever chased what they wanted from life. From entrepreneurs to office workers, the lives they led embodied a different take on the everyday. Rather than settle in and live each day in the same cycle, they opted for something more. Put simply, they chose to never settle. These character insights offered a trove of inspiration for bringing the new Dos Equis to life.
New beginnings...
To capture both the diversity and energy of the consumer as well as the moment in time, Dos needed a creative platform with a certain malleability. Our approach consisted of three elements: a campaign idea that was flexible and impactful, a tagline that planted the brand in consumers' minds, and a creative bravery that enabled breakthroughs. So came Get a Dos: a play on the word dose. A reminder designed to plant the brand front and center in our consumers' minds, whether at the corner store or the bar. The flexible platform provided us a launchpad to take our storytelling in several directions: a Dos of Exploration, a Dos of Excitement, a Dos of whatever the cultural moment called for.
...In strange times.
Flexibility was an essential feature for launching in Spring of 2021. It was a time where marketing in all industries–beer or otherwise–had adopted a pretty singular tone: We're all in this together, cue piano. It was a safe bet, but it wasn't long before the pathos ran dry.
In a bold move, Dos Equis chose to focus their main spot Pregame on another energy that characterized the cultural moment: the joy of reuniting towards a collective future, but also the real-life stumbles that came with it.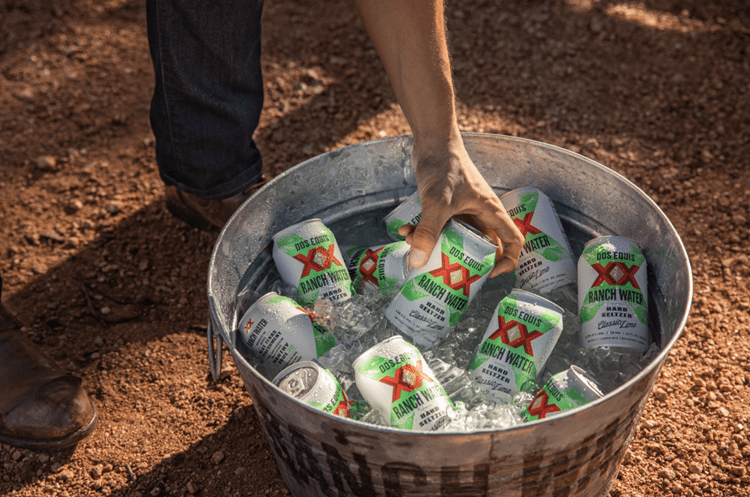 Beyond lager
In 2021, Dos transcended their existing identity by expanding their portfolio into both flavored brews and spiked seltzer. Through a series of social activations we supported their launch of Ranch Water Hard Seltzer, a can based on the Sunbelt's favourite refreshing cocktail. Paired with other flavoured beers like Lime & Salt and released in variety packs, our work helped consumers rethink both the moments and types of beverages associated with Dos Equis.
Deepening a community connection
In the South, football is a religion. As the Official Beer Sponsor of Big Noon Kickoff on FOX Sports, Dos had laid the foundation for a relationship with this pivotal Sunbelt community. We worked with them to deepen the connection through multiple entry points: billboards, spots like Shopkeeper, and more.
One activation even solved an age-old fan dilemma. Weddings and College Football share the same season, and couples don't want their friends and family to miss out on either. To solve this impasse once and for all, we combined game day and the big day by sponsoring a tailgate wedding: Dos Become One. What better way to prove to a community that you're willing to show up for them?
And just like that, Dos was back in the game.
Through storytelling that tapped into who Dos Equis' consumers were, innovation that made the brand about more than beer, and sponsorships and activations that met consumers where they were, Dos Equis saw unprecedented growth in 2021.
After the campaign launched in March 2021, Dos Equis' sales in April grew by 56%. May saw 31% growth, June 39%, and July 37%. All the while, the norm for the beer industry was stagnation and decline. On premise accounts, too, caught the buzz–Dos Equis added 14,078 new points of distribution in 2021. In the end, we took a brand that had experienced ten consecutive years of declines and not only stopped the losses, but added growth.
Fireworks happen when a powerhouse client has both ambition and nerve. We're thrilled to be part of the brand's next chapter, and to help Americans Get A Dos.