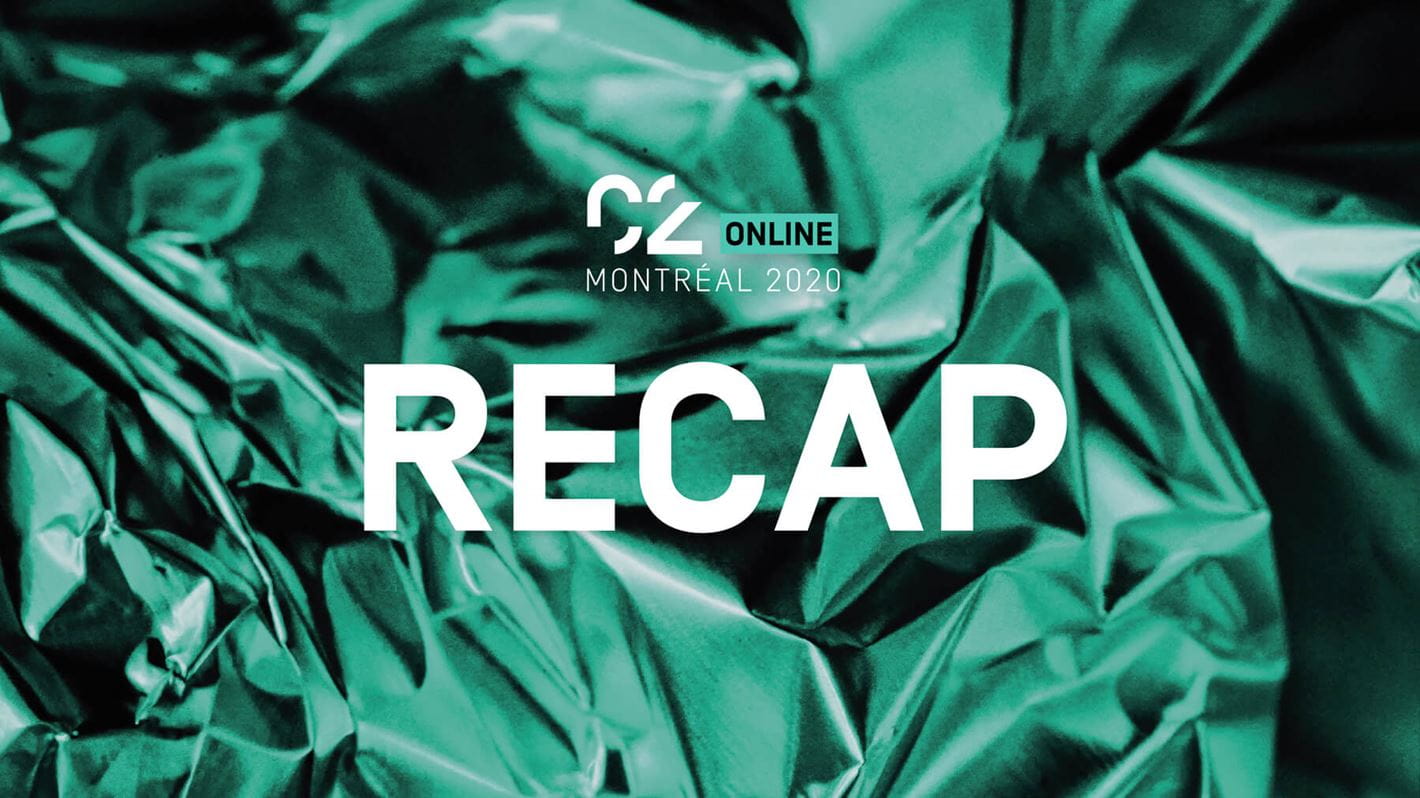 Another edition of
C2
is in the books. In the span of 10 days,
43 speakers
covered subjects ranging from diversity and inclusion to community marketing and brand activism. Masterclasses, workshops and fireside chats all took place under the umbrella of the ever contextual theme that shaped this edition of the conference:
Resilience
. A lot happened in these two weeks, and with it came many thought-provoking insights, concepts and ideas. Luckily for you, we jotted many of them down. Without further ado, here are our most notable takeaways from
C2 Online – Montréal 2020
:
Jameela Jamil
, Actress, writer, host and advocate
From the conference: Fireside chat with Jameela Jamil
"Stop asking to be invited at the table. Build your own table."
"You are building a movement, not a fan club. Every day you have to fight against systemic repression and in order to do that, you have to be f*cking annoying."
"It's an act of rebellion to love yourself as you are."
Jane Fonda
, Actress and activist
From the conference: Fireside chat with Jane Fonda
"Back then, like today, we felt like everything was at stake. We were desperate, highly motivated and ready to sacrifice. Back then, they were generational and cultural divisions. Today, it's racism at the root of our problem."
"Being ignorant is one thing. But if we know and still don't do anything, then we are part of the problem."
"Feminism simply says that all people should be free to fulfill their full potential in life. So it's not telling women how they should be, it's saying, 'You have the right to become who you want to be.' The playing field should be levelled between men and women."
Patrisse Cullors
, Social activist, best-selling author and co-creator of the viral twitter hashtag and movement #blacklivesmatter
From the conference: Fireside chat with Patrisse Cullors
"Stop using the words 'diversity' and 'inclusion.' Instead, start thinking about a workplace that is anti-racist."
Kirstin Hammerberg
, Global VP, Business and Experience Design, Sid Lee
From the conference: Brand activism — Going beyond hashtags
"I'm inspired to believe that when brands, people and communities come together, learn together and work together, they can achieve sustainable and systemic change. Doing what's right is not a brand point of difference; it's how we all move forward."
Stephanie Harvey
, Director of Esports Franchise Development and Outreach,
Counter Logic Gaming
From the conference: The rise of esports and why it matters for businesses and communities
"If you're an employer and you have to hire someone, you should hire a gamer. Gamers are on top of everything. There's nothing that can stop us. And when COVID hit, we were still going full speed."
"We don't teach people to be good cybercitizens and that is a huge flaw in our system, but anyone who is using the Internet right now can help in building the ideal citizenship."
Jim Kean
, CEO,
Steelcase
From the conference: Returning to the office — Envisioning a new kind of workplace
"The power of human resilience. People are remarkably resilient. We hear stories about this over history but here we are now, making our own history."
Engin Ayaz
, Co-founder,
ATÖLYE
From the conference: Community-powered innovation — Tackling real-world challenges together
"Industry leaders will need to learn how to mobilize micro-communities to build new systems of belongings and trust. To this end, our models need to shift from silos to flows and from transaction to reciprocity."
Britt Stromberg
, Global Head of Marketing, Sid Lee
From the workshop: Brands don't create communities — How the new context of community marketing fuels growth
"Community marketing is unique because it leverages the power of network effects and is the driving force behind platform-based organizations."
"It's time for a shift in mindset. From ownership to participation. From demographics to communities. From messaging to conversation."
Michel Leblanc
,
CEO, Chamber of Commerce of Metropolitan Montreal
From the conference: Let's relaunch Montreal — Jumpstarting the city's economic revival
"We are living through a real-time anthropological study. Right now, business leaders understand why people have been getting together since the dawn of time."
To those of you who are done with 2020 and already daydreaming about the end of winter, C2 Montréal 2021 is something to look forward to. See you there next spring.