Canadian Olympic Committee & Sid Lee Architecture unveil plans for Canada Olympic House in PyeongChang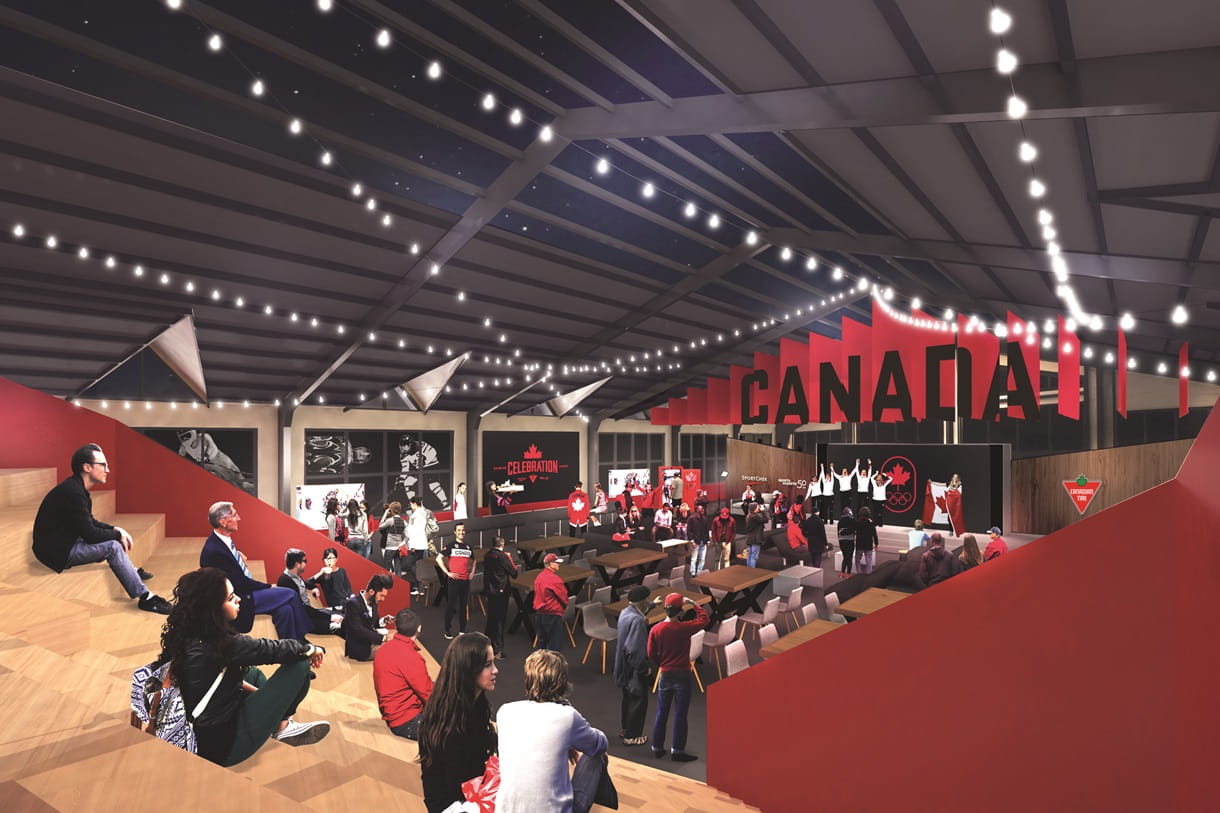 On Monday, the Canadian Olympic Committee (COC) unveiled plans for Canada Olympic House at the Olympic Winter Games PyeongChang 2018. A project designed in collaboration with Sid Lee Architecture.

Canada Olympic House serves as the gathering place for Team Canada fans at the Games, welcoming family and friends of athletes and coaches. New for PyeongChang 2018, the house will open its doors to Canadians and all Team Canada fans visiting the Olympic region.

The house will be located on the east coast of South Korea, near what is expected to be a very popular Gangneung Olympic Park. The 12,000 square foot house is predicted to welcome more than 10,000 guests over the course of the Winter Game.
From watching Team Canada compete, to enjoying classic Canadian food and drink, a visit to Canada Olympic House is an opportunity to experience the home-away-from-home for our athletes and fans at the Games. Visitors can expect to:

• Watch Team Canada compete on the CBC/Radio-Canada broadcast;
• Get a taste of Canadian food & beverage (for purchase);
• Purchase merchandise at the Team Canada retail store;
• Celebrate athletes during Sport Celebration events;
• Experience Team Canada partner activations;
• Purchase and collect tickets from the ATPI Sports Events ticket box office;
• Access Guest Services & Information;
• Enjoy unique programming and special events.

Fans who would like to visit the house are encouraged to go to canadaolympichouse.ca to purchase tickets ahead of the Games. Family and friends of athletes and other affiliated groups can register ahead of the Games via the site as well. With a limited inventory of tickets available, fans are encouraged to act quickly.

A ceremonial opening will be held on Februrary 7, 2018 in PyeongChang. The house will officially be open to fans on February 10, 2018.

"We are so excited to welcome Team Canada fans to Canada Olympic House in a bigger way than we ever have before. We are rolling out the welcome mat to the world. The foundation of the house is thanks to the investment of our amazing partners. Home is where the heart is, and for the 17 days that we are in PyeongChang, Canada Olympic House will be home" says Derek Kent, CMO, Canadian Olympic Committee.

In partnership with the COC, renowned creative agency of record, Sid Lee, the team at Sid Lee Architecture designed the house with a true 'Canadiana' look and feel, creating a patriotic hub for all Canadians and Team Canada fans in South Korea to enjoy the Games together. Utilizing the strengths and characteristics of an existing facility, the house will feature uniquely Canadian elements including a bleacher in the shape of a maple leaf for fans to sit and enjoy programming, banners hanging from the rafters inspired by the ones found in hockey arenas across the country, layers of mountain ranges depicted, bringing the great Canadian landscape indoors and a patio inspired by a Canadian backyard during the winter.

"Sid Lee Architecture is thrilled to be partnering with the Canadian Olympic Committee alongside our creative team at Sid Lee Toronto. This unique opportunity allowed us to collaborate on an iconic space that will be a physical representation of the Canadian Olympic spirit outside of our borders and on display for the world to see" adds Martin Leblanc, Architect, Partner, Sid Lee Architecture.

Together, the COC and Sid Lee partnership not only includes the design of Canada Olympic House, but also the upcoming design of the COC's new office space as well as a new branded platform based on Canadian Olympic values. Teased elements have already appeared on Team Canada's social media channels. On January 23, 2018, the COC will launch its brand campaign for PyeongChang 2018.

Creating a comfortable environment at the Games for the athletes and their guests is a priority for Team Canada's partners. For example, the house will be furnished with more than 500 pieces of product provided by the Canadian Tire Corporation to create a celebration lounge for comfortable viewing areas to watch the live broadcast of the Olympic Winter Games as well as other special events planned at the house.

Guests will also have access to other services provided by partners, including:

• The Canadian Tire Red Door which will be stationed in the Canadian Tire Celebration Lounge along with the Team Canada Facebook Live Studio presented by Sport Chek. Both activations will connect Canadian Olympic Team athletes to fans back home in Canada;
• Air Canada patio that brings Canada to the world, including complimentary poutine for fans;
• The Bell Friends & Family Lounge will offer on-site product specialists to provide mobile support to guests, WiFi throughout the house and charging stations;
• Complimentary event tickets for athletes' friends and families courtesy of Petro-Canada, which will also sponsor the Petro-Canada Fuelling the Dream Café;
• Up to the minute Team Canada medal tracker presented by SAS Analytics;
• Experiential activations and event programming and support from RBC, Toyota, Mondelez, Smith School of Business at Queen's University and Samsung;
• Refreshing Molson Coors products available for purchase throughout Canada Olympic House for fans to enjoy while cheering on Team Canada, with a percentage of proceeds donated to the Canadian Olympic Foundation;
• A Canadian Olympic Team store with replica apparel and accessories provided by Official Team Outfitter Hudson's Bay;
• Premium event space for government, National Sport Federation and partner events;
• Dedicated special events for athletes and their family and friends, including an Opening Ceremony celebration.

"Canadian Tire is proud to support the Canadian Olympic Team because we believe in helping our athletes reach the pinnacle of success, which in turn, inspires the nation. We've worked closely with the Canadian Olympic Committee and Sid Lee to create the 'Canadian Tire Celebration Lounge' within Canada Olympic House, to provide a home away from home for those at the Games" concludes Jeffrey Orridge, SVP, Community and Partnerships, Canadian Tire Corporation.

The COC would like to thank the partners for their generous contributions to the PyeongChang 2018 Canada Olympic House, allowing athletes, their family and friends, and Team Canada fans attending the Games to celebrate together.