sid lee
Équipe créative - Creative Team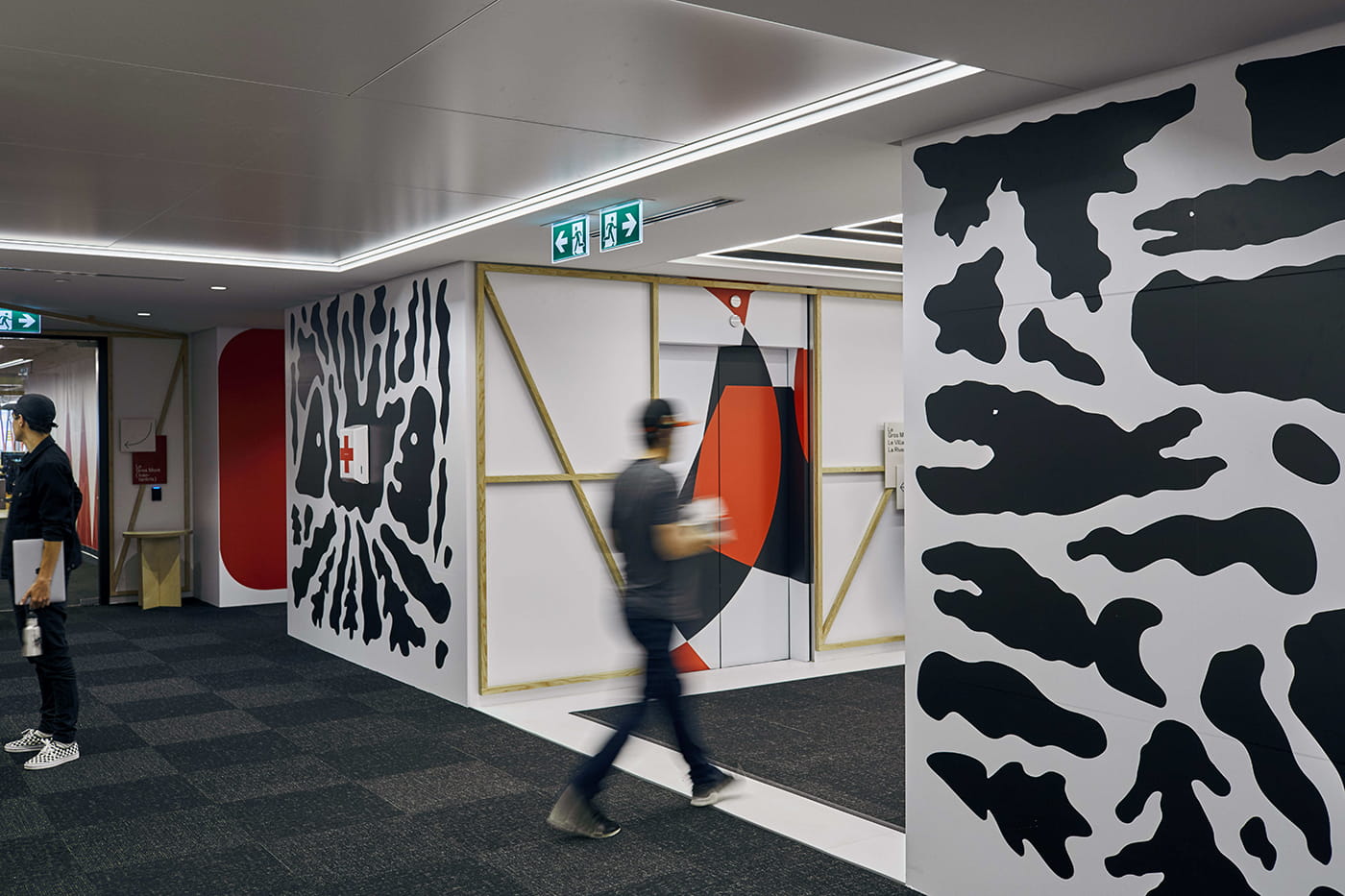 English will follow
QUI NOUS SOMMES
Sid Lee est une communauté créative sans frontières qui utilise le storytelling, le design et la technologie pour créer des expériences clients qui comptent vraiment. Son équipe multidisciplinaire de plus de 900 professionnels opère de ses bureaux situés à Montréal, Toronto, New York, Paris, Londres, Los Angeles et Seattle. Travaillant côte à côte avec des clients avant-gardistes, Sid Lee déploie ses capacités créatives dans une variété de disciplines, notamment le design, la communication interactive et expérientielle, la publicité et l'architecture. Pratiquant un développement de création et une production agiles en plus d'opter pour un processus de collaboration extrême, tant à l'interne qu'avec ses clients, Sid Lee crée ce qui compte vraiment, permettant à ses clients de surpasser la concurrence et de gagner la confiance et la fidélité de leurs consommateurs.
RÔLE
L'équipe créative est composée de deux complices dévoué.es dont les idées et les méthodes sont en parfaite concordance. Le.la directeur.trice artistique est responsable de la conception et de la direction artistique des projets publicitaires et interactifs, et le.la rédacteur.trice est chargé.e de la conception et de la rédaction des mêmes projets. Ensemble, grâce à leur solide compréhension du numérique et des médias sociaux, ces membres de l'équipe réalisent les projets qui leur sont confiés à partir d'idées originales et assurent la qualité du produit final.
* Veuillez noter qu'il s'agit de deux postes distincts. Nous ne considérerons que les candidat.es qui postulent en équipe, un.e directeur.trice artistique et un.e rédacteur.trice.
RESPONSABILITÉS
Rédiger des textes selon les lignes directrices et le ton pour la vidéo, la presse écrite, le numérique et les médias sociaux; concevoir des créations selon les directives et le ton de la marque;
Gérer plusieurs projets simultanément tout en respectant les délais;
Créer un travail structuré qui exprime clairement une idée pouvant faire l'objet d'une campagne;
Capacité à réfléchir les campagnes 360 différemment, en positionnant le contenu au centre de la réflexion pour y arrimer ensuite, les autres points de contact plus traditionnels;
Traiter les informations fournies par les clients, les stratèges et les services de comptes clients, et les traduire en un travail créatif efficace;
Vérifier le travail créatif pour garantir l'exactitude des informations;
Présenter le travail et nouer des relations de valeur et de respect avec le client;
Aider l'agence à établir des relations solides et positives avec les gens du domaine de la publicité pour aider à recruter les personnes les plus talentueuses;
Se tenir au courant des innovations et des tendances du secteur.
REQUIS
Expérience de 3-5 ans en agence
Portfolio solide : Vous faites preuve d'originalité, d'innovation et d'une approche multidisciplinaire dans votre travail.
Grandes idées non conventionnelles : Vous allez au-delà des tâches à exécuter et parvenez à des idées novatrices qui peuvent être développées en campagnes et qui fonctionnent dans tous les médias.
Polyvalence : Vous possédez de solides compétences en direction artistique et pouvez travailler avec différents médias : vidéo, imprimé, web et médias sociaux.
Esprit d'équipe : Votre tempérament positif et axé sur la collaboration est contagieux et vous travaillez bien avec les autres.
Fibre entrepreneuriale : Vous prenez des initiatives et apportez de nouvelles idées de manière proactive pour faire avancer la création et développer de nouvelles relations clients.
Connaissance de la production : Vous savez travailler avec des contraintes budgétaires et avez de l'expérience de travail avec des photographes, des directeurs et des fournisseurs.
Gestion du temps : Vous êtes capables de gérer votre temps, de respecter les échéances et d'être à l'heure aux rencontres, tout en gérant plusieurs projets.
Participation à la culture : Vous contribuez à la culture de l'agence et participez aux activités qui développent le sentiment d'appartenance à celle-ci.
---
WHO WE ARE
Sid Lee is a borderless creative agency applying storytelling, design and technology to build customer experiences that matter. Their multi-disciplinary team of 900 professionals works as one, out of offices in Montreal, Toronto, New York, Paris, London, LA and Seattle. Working side by side with progressive clients, they deploy their creative capabilities in several disciplines, ranging from design to interactive and experiential communication to advertising and architecture. Practicing agile creative and production development, as well as radical collaboration both internally and with their clients, they create work that matters, allowing their clients to outperform their competitors and earn the trust and loyalty of their customers.
ROLE
The creative team is made up of two dedicated partners whose ideas and methods are in perfect sync. It consists of an art director and a copywriter. The art director is responsible for the design and artistic direction of advertising and interactive projects. The copywriter is in charge of concepting and copywriting for the same projects. Together, with their strong digital and social understanding, these team members carry out projects assigned to them through unconventional ideas and ensure the quality of the final product.
*Please note, this is for 2 separate positions. Consideration will only be given to those applying as a team, both an Art Director and a Copywriter*
RESPONSIBILITIES
Write copy against copy guidelines and brand tone of voice for film, print, digital and social. Create artwork within brand guidelines and brand tone of voice.
Manage multiple projects simultaneously while meeting deadlines.
Create structured work that clearly articulates a campaignable idea.
Ability to think about 360 campaigns differently, positioning the content at the center of the reflection and then anchoring other, more traditional points of contact to it.
Process information supplied by client/strategy/account services and translate into effective creative work.
Proof creative work to ensure accuracy of information.
Present work and develop relationships of value and respect with the client.
Help the agency develop a strong and positive relationship with the advertising community to help recruit top talent.
Stay up to date with new innovations and industry trends.
REQUIREMENTS
3-5 years of agency experience
Strong Portfolio: You demonstrate originality, innovation and a multi-disciplinary thinking through your work.
Big Unconventional Idea Thinker: You go beyond the executional or tactical tasks and come up with innovative campaignable thoughts that work across all media.
Versatile: You are a strong art director with design pedigree that can work in film, print, web and social.
Team Player: You are positive, collaborative and a contagious spirit, who works well with others.
Entrepreneurial You take initiative and proactively come to the table with new ideas to push forward the creative work and develop the client relationship.
Production Savvy: You know how to work within budgetary constraints and have experience working with photographers, directors and vendors.
Time Management: You can manage your time, hit deadlines and be on time for meetings, while juggling multiple projects.
Cultural Player: You contribute to the culture of the agency and take part in activities that foster the agency spirit.
Fière de souscrire au principe de l'égalité d'accès à l'emploi, Sid Lee s'engage à créer un milieu de travail reflétant la diversité. Tous les candidates et candidats qualifiés sont pris en considération, sans égard à leur citoyenneté, ethnicité, race, couleur, religion, genre, identité ou expression de genre, orientation sexuelle, handicap, âge ou statut de vétéran.
Nous encourageons les femmes, les Autochtones, les personnes handicapées et les membres de minorités visibles à postuler nos emplois.
Proud to be an equal opportunity employer, Sid Lee is committed to creating a diverse work environment. All qualified applicants are considered without regard to citizenship, ethnicity, race, colour, religion, gender, gender identity or expression, sexual orientation, genetics, disability, age or veteran status.
We encourage women, Indigenous people, persons with disabilities and members of visible minorities to apply.